Introduction
Here at CXR.Agency, we take pride in everything we build – from exciting XR marketing campaigns to powerful digital platforms to bold new branding. We love what we do and it's always nice to be recognized for our work. We're proud to announce that, after evaluating 100 other custom software development agencies, Digital.com has recognized C-Labs as one of the top 15 in New York City.
The contenders were rated on factors such as cost, features, and customer reviews. All were companies that provide custom software development services – meaning we offer built-to-order programs, apps, and platforms. We're up-to-speed on the latest trends and features in digital development, and we're ready to carry out a job from concept to completion.
We're proud to be part of such a bright group of like-minded companies and we look forward to providing best-in-class service to clients in NYC and beyond.
Learn more and see the full list here.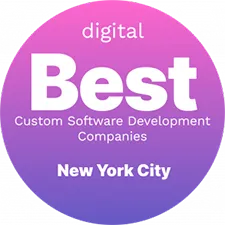 Our Mission
We reimagine how people interact with brands. Our web and app developers disrupt the status quo and uncover values others can't find. We solve tomorrow's business challenges in thoughtful, elegant ways and aim to be strategic leaders in app development in New York – innovators in user experiences. Explore our case studies for more information and get in touch to learn more about how we can help your business.